A drive shaft is a crucial component of a car because it distributes torque from the transmission to the differential, which then sends it to the front wheels to power the car. A cardan shaft, propeller shaft, or prop shaft are other names for the driving shaft.
Simply put, the propeller or drive shaft's primary job is to transfer engine torque from the differential to the car's wheel.
Depending on the automobile type and the front-engine, rear-drive, and four-wheel drive configurations, the driveshaft's location varies. Prop shafts are also found in a wide variety of different vehicles, including boats, trains, motorbikes, trucks, and vans.
These shafts have a variety of prismatic joints, leaf joints, universal joints, or jaw couplings that allow the driver and driving portions to be moved farther apart or in various alignments.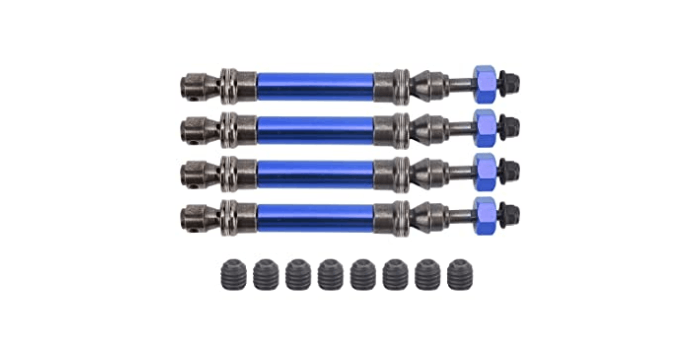 Speak With A Specialist Now:
(469) 868-2227
How does a drive shaft work?
The drive or prop shaft's primary function is to transfer engine torque from the differential or gearbox to the car's wheels. Additionally, in order to guarantee perfect synchronization between the shaft joints, any variations in angle or length brought on by manipulation or deflection must be taken into account. A connecting shaft, an inner constant velocity joint, and an outside fixed joint make up the drive shaft for a front-wheel drive vehicle. Additionally, it has additional components like torsional dampers and anti-lock system rings.
The transmission and engine of the car are connected by flexible mountings or bearings. However, the rear axle, differential, and suspension spring are all connected. The rear axle casing's output shaft and the transmission's input shaft are in different planes. The driving shaft can link the input and output shafts at an inclined angle. The rear axles move lower and upward, expanding and contracting in the suspension springs as the rear wheels contact the uneven ground. The angle between the transmission output shaft and the propeller shaft is altered as a result.
The length of the prop shaft fluctuates as a result of this operation. This alteration takes place as a result of the driving shaft and rear axle rotating in an arc with a point on their respective rotational axes.
Advantages of drive shaft
There are no or very low power losses.
These shafts have high durability.
The drive shaft doesn't have complex construction.
It generates very low noise at high torque.
They need less maintenance compared to the chain system.
The drive system doesn't jam easily.
Speak With A Specialist Now:
(469) 868-2227
Used drive shaft for sale
Drive shafts are essential for proper vehicle operation. They help to transfer power from the transmission to the wheels, while also ensuring that the joints are properly synchronized. However, these components can wear out and can cause some serious issues. A driveshaft replacement is necessary if one is not in good condition. In order to get the most for your money, it is important to look for a quality replacement drive shaft that is durable. This means that the brand you choose should be well-known and reliable. Fortunately, you can buy high-quality replacements at a reasonable price.
The drive shaft has several parts, including a yoke, suspension spring, connecting rod, torsional dampers, and a cv boot. If you have a cv boot with grease dripping from it, you may have a damaged joint. Other driveshaft components include a pinion yoke and a bolt. Purchasing a drive shaft with a good warranty is a great way to ensure that you don't have to go out and buy a new part for a while. For example, the true drive (r) brand offers high-quality replacement driveshafts that are engineered to perform with a guaranteed fit. Plus, they come with rubber bushings that reduce vibration between the various parts of the shaft, keeping you and your passengers safe and sound.
If you are looking for a drive shaft, make sure to check out Buy Auto Part. They have a wide selection of drive shafts for every budget. Each drive shaft is tested and inspected thoroughly to ensure quality.
Parts of Differential:
Differential side gear or sun gears
Pinion shaft or cross pin
Axle shafts or half shafts
Ring gear or crown wheel
Drive pinion or bevel pinion
Differential pinions or planet gears
Differential case or housing
Types of Drive Shafts:
Single piece shaft
Two or three piece shaft
Front wheel drive
Speak With A Specialist Now:
(469) 868-2227