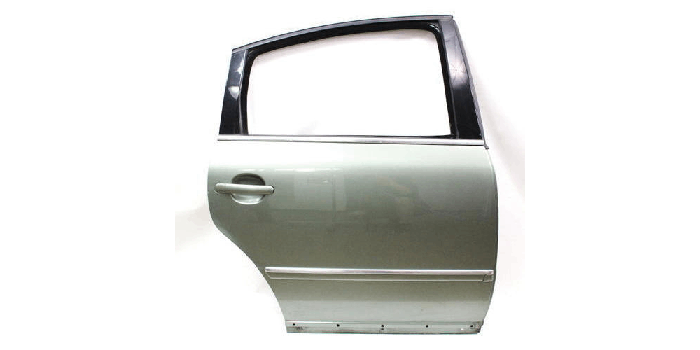 A door assembly for a motor vehicle comprises a molded door panel having a first side and a second side. The first side of the door panel is adapted to face towards the passenger compartment of the motor vehicle. The second side of the door panel supports a belt line reinforcement, a lock and catch assembly, and a window lift assembly. The door assembly is adapted for joining with a door exterior.
Part Description:
The Rear door is simply that, found on either the left or right side. The rear door consists of a door shell (metal part), glass, may or may not have a regulator and/or motor. The rear door does not come with a mirror or inside panel. WE DO NOT COLOR MATCH.
Get Free Quote

(469) 868-2227
For part type Rear door you must clarify what the person needs from the door. We normally quote a good clean door to the customers and then find out if they actually need the glass, etc. We DO NOT color match.
While buying a door it is important to know how they are graded. For instance you might find a certain door for a particular price but you must find out what condition it is in. When viewing distributor inventory normally there will be notes telling the number of 'hours' damage.
We NEVER want to sell doors that have notes about damage. The notes will say if it has 'one parking lot ding' or any other negative description, in that case you can tell the customer and see if they still want it.
The Customer has to confirm if they still need the part. If the Customer states they want a perfect door and do not have any mechanical knowledge then be careful. In some cases though the customer will tell you they just need a door shell and don't care about the glass, mirror or door panel etc it has to be confirmed.
Get Free Quote

(469) 868-2227